What Is GoDaddy and what does it use for?

You've probably come across advertisements for Go Daddy, whether during your favorite TV show or a sporting event, but you might still be curious about what Go Daddy is all about. Go Daddy, also known as GoDaddy, GoDaddy US, and GoDaddy USA, is a prominent American corporation based in Arizona. Its primary focus lies in registering Internet domain names (i.e., website names) and hosting website data on its servers.
Being one of the world's largest domain name registrars and web hosting companies, Go Daddy boasts a vast customer base of over 20 million users worldwide. Its extensive range of services and tools caters to both large enterprises and small businesses alike.
Your Go-To Source for the Latest News and Tools in the Blockchain Sector - Coinnav.io
What is GoDaddy used for?
GoDaddy provides a wide range of services related to website management, and it primarily focuses on eight main services, which include:
domain serverdomain serverWeb hosting
WordPress hosting
Domain registration
eCommerce solutions
Website builder
SSL certificates
Professional email
Microsoft 365
1. Virtual host
In simple terms, virtual hosting refers to a web hosting service that allows individuals and organizations to utilize web server space to build their websites. A web server is essentially a piece of hardware situated in a specific location globally, where all the files related to a website, such as images and code, are stored.
If you have ever searched for hosting services, you may have come across four different types of hosting options: shared, dedicated, VPS (Virtual Private Server), and reseller hosting. Each of these hosting types differs in terms of server space allocation, data center infrastructure, level of website management, and availability of additional resources.
GoDaddy offers all four types of hosting services, providing a comprehensive range of options to suit various website hosting needs.
2. WordPress hosting
Similar to many popular web hosting providers, GoDaddy also offers WordPress-optimized shared hosting plans. These plans are tailored to cater to users who are comfortable managing WordPress sites effortlessly. With pre-installed WordPress, users have access to a variety of themes and plugins, simplifying the website creation process.
If you are wondering whether WordPress hosting is superior to regular shared hosting plans, the answer is likely no. WordPress hosting focuses on streamlining the building and management of WordPress websites, but in terms of performance, it does not significantly differ from regular shared hosting.
It is important to note that you have the option to choose regular web hosting and then install WordPress at a later stage, and it should function smoothly.
If you are uncertain about whether you need web hosting or WordPress hosting, a helpful guide is available to assist you in making an informed decision.
Lastly, it is worth mentioning that GoDaddy's WordPress hosting plans are designed for a single installation, and their prices start at $6.99. This ensures that users have access to suitable options at affordable rates.
3. Domain registration
Domain registration involves acquiring a unique and recognizable web address, known as a domain name, that people can type into their web browsers to access your website. While the most common domain extension is ".com," there is a wide variety of other extensions available, each serving different purposes and industries. Some of these extensions include ".biz," ".club," ".net," ".today," ".xyz," ".email," ".group," ".company," ".org," and many more.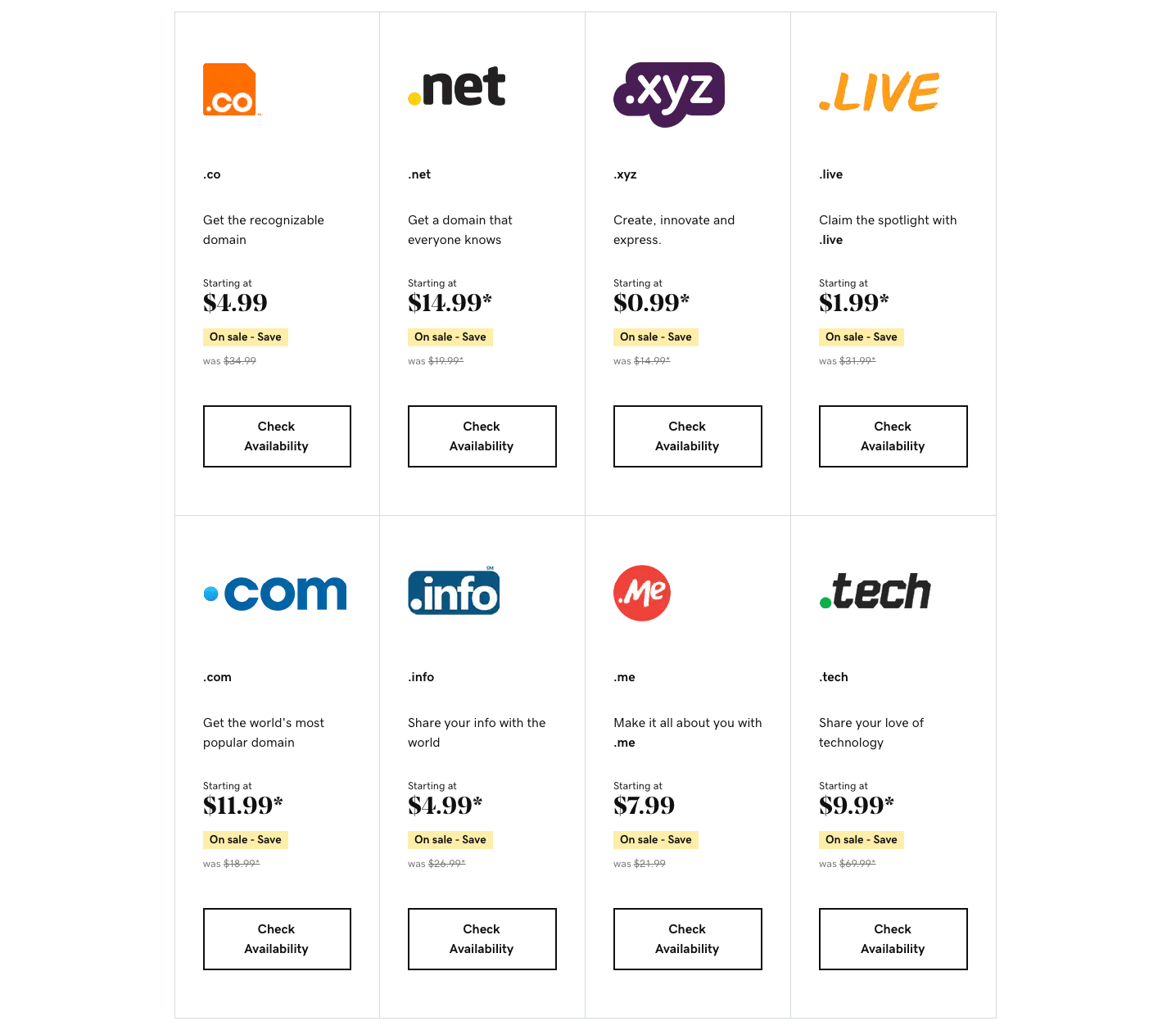 At GoDaddy, they provide domain protection services to safeguard against various threats, including domain hijacking, accidental expiration, and data exposure. Basic privacy protection is offered free of charge, but customers have the option to upgrade to two higher plans, priced at $9.99 and $19.99, respectively, for additional security features. To learn more about the different types of domain protection they offer, customers can find detailed information on their website.
When purchasing any hosting plan from GoDaddy, customers receive one free domain name as part of the package. However, this free domain name will need to be renewed each year at a cost of $11.99.
Alternatively, customers have the flexibility to buy a standalone domain name from GoDaddy. For the first year, the cost of a standalone domain name is $11.99, and subsequent renewals are priced at $17.99. It is important to note that domain name prices can vary based on the chosen domain extension. Generally, a .com domain name tends to be more expensive than, for example, a .biz domain name. Customers can explore the available domain extensions and their respective prices on GoDaddy's platform to make an informed decision based on their preferences and budget.
4. eCommerce solutions
GoDaddy's eCommerce solutions are designed to empower users in creating and managing their online stores. This comprehensive package combines GoDaddy's hosting plan with a pre-installed WooCommerce, a free WordPress plugin specifically crafted to transform a standard WordPress website into a fully functional online store.
By opting for GoDaddy's eCommerce solution, users gain the capability to showcase and sell an unlimited number of products within their online store. Additionally, they can efficiently handle customer management and track revenue to gauge the store's performance. The package also offers an array of tools catering to essential aspects of running an online business, such as SEO optimization, Google listing integration, product promotion, and the ability to build a subscriber's list.
GoDaddy ensures a seamless transaction process for customers by supporting popular payment gateways like PayPal, Stripe, and Square. Moreover, the platform does not impose any transaction fees, further empowering users to conduct business without additional costs eating into their profits. To provide users with an opportunity to experience the service firsthand, GoDaddy offers a 30-day trial period, allowing them to explore the features and benefits of the eCommerce solution.
Following the trial period, users can choose to continue with the service by subscribing to the plan, which is priced at $24.99. To delve deeper into the details of GoDaddy's eCommerce solution and gain a better understanding of how it aligns with specific business needs, customers are encouraged to reach out to the dedicated support team. The support team can offer personalized assistance and insights to help users make informed decisions in their eCommerce journey.
5. Website builder
A website builder is a powerful tool designed to bring your website ideas to life with ease.
GoDaddy's intuitive visual website builder provides a wide selection of professionally designed templates, giving you the flexibility to choose the one that best fits your vision. With the convenience of drag-and-drop functionality, you can easily customize the template to suit your specific needs and preferences.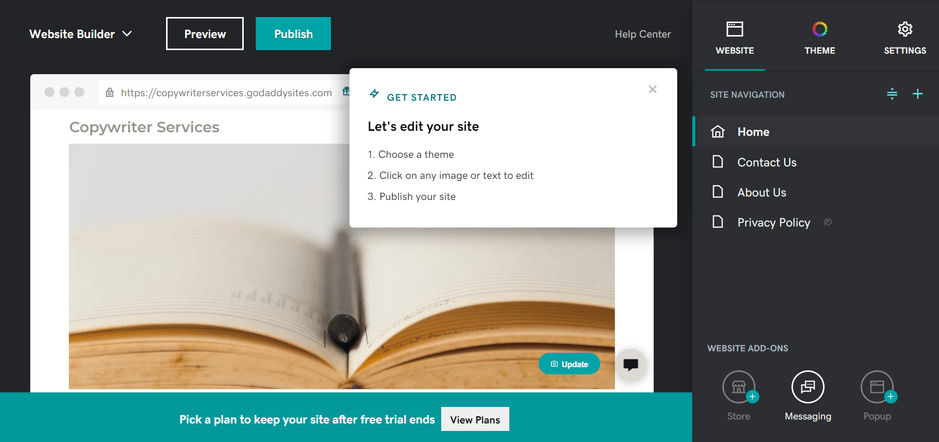 The website builder offers a free trial, allowing you to explore its features and capabilities without any upfront cost. However, when you are ready to publish your website and make it accessible to the online world, you will need to upgrade to a paid plan. GoDaddy offers pricing plans starting at $6.99, providing you with various options to suit your budget and requirements.
6. SSL certificates
An SSL certificate is a digital credential that serves as a website's authentication, ensuring its identity and security. In simpler terms, it is a vital element that guarantees a website's safety for users to navigate.
You might have encountered websites labeled as "Not Secure" by Chrome, which can raise concerns about data security. By obtaining an SSL certificate, not only can you remove the "Not Secure" label, but you also display a reassuring lock symbol, signifying a secure connection.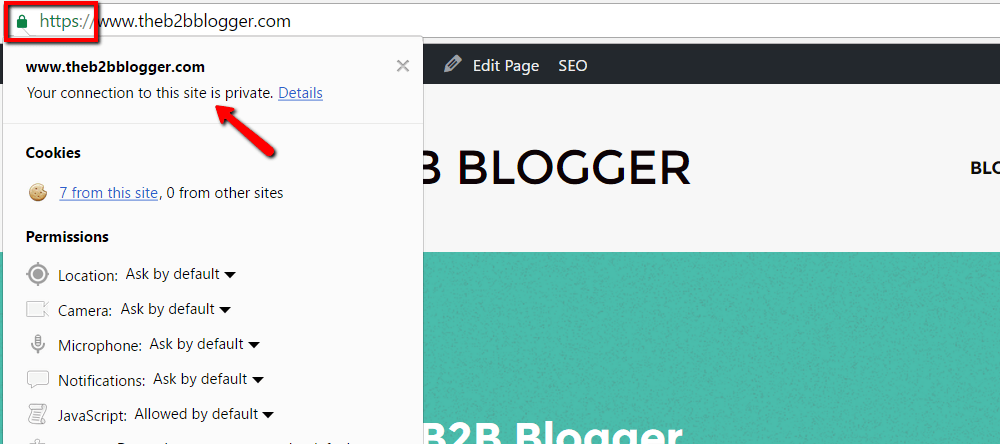 Since the year 2015, SSL has become a standard practice for websites, and we strongly recommend acquiring one for your own website. GoDaddy offers SSL certificates for free with some of their higher hosting plans, such as Ultimate and ECommerce, providing added security and peace of mind for your online presence. Additionally, you have the option to purchase a standalone SSL certificate, with basic ones starting at a price of $64.
Investing in an SSL certificate is essential to build trust with your website visitors and customers, as it encrypts data transmitted between their devices and your website, safeguarding sensitive information from potential threats. It not only ensures a safer online environment but also enhances your website's credibility and professionalism.
7. Professional email
In addition to providing web hosting services, GoDaddy also offers an email hosting service, allowing you to create a professional-looking email address, such as [email protected], instead of using a generic email like [email protected]. Having a custom email address adds a sense of professionalism and credibility to your communication. The basic email hosting plan starts at $6 per user, providing you with the essential features needed for efficient email management.
8. Microsoft 365
You are probably familiar with Office 365, a comprehensive suite of Microsoft tools that includes applications like Word, Excel, PowerPoint, Skype, and OneDrive, among others. Alongside the professional email service, GoDaddy offers Microsoft 365 as a bundled solution, tailored to meet the needs of businesses. This powerful combination of professional email and Microsoft 365 tools ensures that your team can collaborate effectively and work seamlessly on documents and projects. The pricing for this bundle starts at $8 and renews at $11, providing you with a cost-effective solution for enhancing productivity and efficiency within your organization.
Relevant Navigation